Why Danny Willet Will Win a PGA Tour Event This Year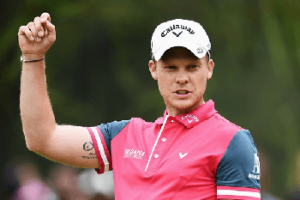 Danny Willett has just experienced the season of his life in 2015. He managed to maintain momentum with his dominant victory in the week's Dubai Desert Classic. All wins are good for the players, but this one was special for him. The Englishman gained one of the successes that will lay a foundation for greater honors in the future. Willett, 28 years of age showed an excellent skill in holding Andy Sullivan by the narrowest of margins.
Both Willett and Sullivan made single-putt birdies in their final game as they strove for victory. This was an indication that with the current mentality, both can succeed at the highest level. The two players are looking very equipped to be exceptional and take over a generation that was previously dominated by world number ones Luke Donald and Lee Westwood as well as Ian Poulter and Paul Casey. With the recent wins, the transition is already happening. All they need is to keep progressing towards greater heights.
A point to remember is that the competition is also going to be very high. The crop up of new players is developing a form of a vicious circle that inspires the new generation many of who came together during the amateur events and teammates in their home teams. The future players are the likes of Sully, Woody, and Fitzy in the EurAsia Cup. In the next few years, the players will be competing against each other. A 35-year-old, Justin Rose is ranked seventh in the world while 38-year-old Casey remains at top 30. Willet has just attained his third triumph in Dubai in the last 13 months, and he is now moving towards top 10 because he has nine other top six finishes.
He is now ranked 13th in the rankings, and making moves on the PGA Tour – which shows that he has matured in the game and allied with immense talent. After his recent victory, he said that winning and losing presents a tiny difference between it but what you gain when you go through ups and downs is that sometimes you are lucky. His objective every time he gets a chance to play is to contend and in his mind he thinks about victory. It was the same attitude that pushed him through Rory Mcllroy up to the final week during the Dubai Race.
The win has positioned him in better to contest in the European Tour. He remains committed to representing Great Britain at the Olympics. Before he commits himself in the Olympics, he is also due to become a father for the first time in the run-up to the year's first major. However, his win and progress have also presented a betting opportunity for wager lovers. PGA Tour betting is a common practice run by gambling companies to enable fans to have fun as they make money. As Willett's golf game improves, more fans are expected to participate betting on golf. The next stop for Willet is Malaysia later this month to participate in the first World Golf Championship tournament at Doral.