Who Will Win the UEFA's Best Player in Europe Award?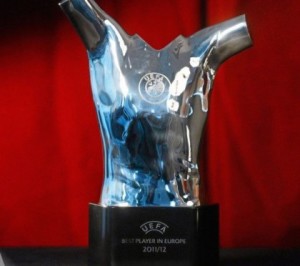 Messi, Ronaldo, or Suarez? Who should you bet on win this award and why? What are the player's credentials for consideration? When it comes to betting on soccer, these are the players and teams to keep at the top of the list.
Europe's governing body of soccer, UEFA, are set to name their annual best player in Europe award after revealing the shortlist for the award. As usual star players from Spain's La Liga top the list in the form of Christiano Ronaldo, Lionel Messi and Luis Suarez. The three players topped the initial round of voting by journalists from the 54 member nations of UEFA, which saw each journalist submit a top five list of their best players from the 2014-15 season. In the initial round of voting Barcelona's Messi came out ahead of Real Madrid's Ronaldo, but changes do often take place when journalists are again asked to vote for their top player.
The top three voted for in the initial voting are widely regarded as the top players of last season, but voting in UEFA's poll has seen a win for Messi or Ronaldo one time each since since 2011. For Luis Suarez to claim the prize of the top player in Europe would see a remarkable turnaround for the Barcelona forward after he was banned for biting following an incident at the 2014 World Cup. The former Liverpool striker was on sparkling form as part of an amazing three forward attack created by Barcelona, which saw he, Messi and Brazilian Neymar score 122 goals between them.
Other players do have the chance to climb the rankings for the final prize, which has a shortlist of ten included for the final voting process. Names that jump off the page include Juventus goalkeeper Gianluigi Buffon who guided his club to the Champion's League final with some amazing performances. However, it is hard to see the prize being awarded to anybody but Messi, who broke the La Liga record for all time goals scored and netted 53 times last season in all competitions in a year many saw as a poor one for Portugal's Christiano Ronaldo.