When Will Preseason NFL Fights Stop Between Teammates?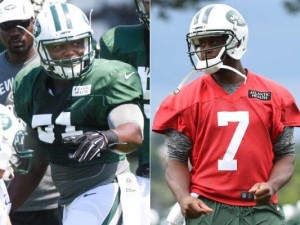 There are fights every year in camps in the NFL. Why? Are they ever going to stop?
To think that fights in the NFL during preseason are going to stop any time in the near future would be pretty ignorant and although it may sound good on the outside to eliminate these altercations, it really is not practical or realistic. The reality is, there is more tension during the preseason then there is at any point in the season, due to the mere fact that the preseason acts as a tryout and there are always at least a dozen players that are fighting to make the 54 man roster. Emotions run high during this time of the year and we see it year and year with the same situations, although things have escalated this year to a place that we have not seen in some time. This year a stupid preseason fight just may have affected an entire team's season. The folks betting on the NFL can't be too happy about jeopardizing their season either.
Take the situation with Jets quarterback Geno Smith recently getting punched in the face by a second year player with a small contract, fracturing his jaw and likely keeping him out for as long as two months. This is a shame as it really looked like it was going to be a big year for Geno Smith and although the altercation between the two men was not related to making the team, it just goes to show how charged up of an environment the locker rooms are during this phase of the year.
Football is an intense sport and the players that compose the teams that we watch and root for have to be intense people in order to play such a hard hitting game, so it only makes sense that they are going to run wild with emotions at certain points. In a certain sense, this is just the way that it is when it comes to the NFL, but if a team wants to have a smooth year and a together locker room, they need to eliminate these problems as much as possible.