UFC Title Unification – Cain Velasquez vs Fabricio Werdum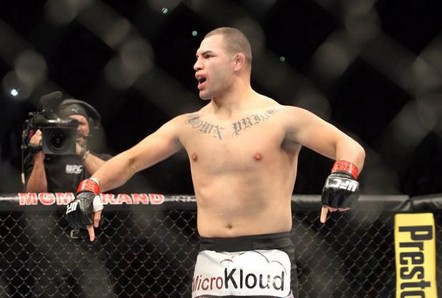 The long awaited and rumored heavyweight title unification of the UFC has been confirmed, and it will take place in Mexico this summer. This match will include Fabricio Werdum, who has won the interim title in Mexico last November. He has a score of 19 wins, 5 loses and 1 draw in MMA and a 7-2 score in UFC. This champ is going to have a chance to unify the UFC Heavyweight championship belt in June when he plays against Cain Velasquez, 13-1 MMA score and 11-1 UFC score. The fight and its lactation was confirmed and announced in a Las Vegas conference by Dana White, the UFC President . The card will be UFC 188 and will take place on the 14th of June (was rumored to be the 13th of June). It will take place in the main event of UFC 188 that will take place in Mexico City Arena.
Fabricio Werdum has scored a TKO victory during the 2nd round against Mark Hunt at UFC 180 in order to win the interim title. Before that, Hunt was the one that replaced the reigning champion, Cain Velasquez who suffered from an injury in the knee just 3 weeks before the pay per view event, so with this match, it seems that Cain Velasquez will have another shot at the title after the news that state that he has been making a great recovery from his torn meniscus as well as his sprained MCL, which would allow him to finally fight in the Mexican arena in this UFC title unification match. Cain Velasquez is not only a Mexican fighter, as he was born there, like his parents, and he has been one of the main keys that led to the growth of the UFC in Mexico.
Cain Velasquez currently sits on the top of the lists, ranked number one, in the MMA Heavyweight Ranking of USA Today Sports. What might endanger his odds in the match is the fact that he hasn't fought since his match in October of 2013 when he won a match against Junior Dos Santos which marked the fighter's 4th straight victory and his 2nd consecutive and successful title defense. As for Fabricio Werdum, he is ranked number 3, and he has won 5 straight UFC games since he lost to Alistair Overeem in 2011.
This match, Werdum vs. Velasquez, was the original main event that was planned for UFC 180 this last November but the injury of Velasquez changed that, where he was replaced by Mark Hunt as mentioned before. The Brazilian is basically undefeated since he came back to the UFC through Strikeforce, where he managed to raise his profile greatly after submitting Fedor Emelianenko back in 2010
William Hill offers odds that cover this fight with 1/5 odds for Cain Velasquez and odds of 7/2 for Fabricio Werdum to win.