The Maracana Stadium Hosts Olympic Football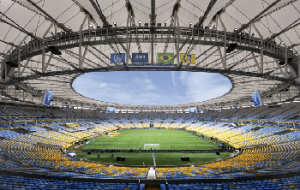 The Maracana Stadium is going to be a very important place to visit on April 14, 2016. The stadium is going to host the draw for the 2016 Olympic football tournaments. The news coming out of the stadium on this date is sure to capture the attention of worldwide media. A lot of future betting on the Olympics is going to be predicated on the outcome of the draw.
On August 19 and 20, the stadium is going to be the home of the finals for both men's and women's leagues. Sports fans and those who like to wager on the games are going to keep close tabs on the various teams as they progress through the Olympic games. Football/soccer, in particular, is sure to be a massive draw in Rio.


Football is a wildly popular sport in Brazil. The enthusiasm for the Olympic finals is sure to be massive, and the stadium is sure to be a "happening place" during the championship event.
Prior to a championship event to take place, the initial draw has to be performed. Fittingly, the original draw is slated to take place at the same location the championship will be battled.
There will be 16 teams in the men's tournament and 12 in the women's tournament. The men's division includes 2012 champion Mexico and Brazil. The men's tournament will be broken into four groups. In the women's tournament, there will be 12 teams. The teams are to be broken into three groups. The 2012 champion USA team is going to be part of the mix.
There is something very interesting going on in the men's tournament. Soccer betting fans are sure to take note of the matchup that is going to commence sometime in march. A spot is open in the tournament, and the spot has to be filled. Columbia and the United States are slated to face off for that coveted spot. The game is sure to be a dramatic and exciting one. The women's tournament will also have a qualifying round that is slated to comprise five teams.
Rio de Janeiro is the official city the Olympic games are being held, and there are other cities in Brazil that factor into the mix. Five other major cities in Brazil are slated to serve as sites for the various events in the football tournament. Those who live in Brazil or are visiting to country can do a lot of traveling to see all the games. Those living far away can take advantage of online sports betting sites to place a wager. Then again, even those living close by can do so as well. Of course, there is nothing like being at the games in person.