The Golfing Year Ahead For Jordan Speith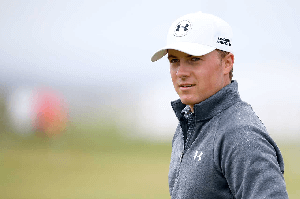 Jordan Speith is a champion golfer on the PGA Tour. Last year, he won both The Masters and The U.S. Open. He currently is the number one golfer in the world golfing rankings. He is handsome, modest, and has a brilliant golf swing. If it were not for Jason Day, Rory McIlroy and Rickie Fowler, he might replace the bet which was available during the dominant stretch of Tiger Woods; the even money bet was Tiger or the rest of the field.
But Speith cannot be anointed as the prohibitive betting favorite. He will be the defending champion at The Masters, but there is that curse which follows those golfers who win at an early age and then are thrust into a corporate world demanding the golfer's time and attendance for their endorsements. It will be a lucrative year for young Speith who is a sponsor's dream. He not only embodies the physical good looks but has an excellent, caring personality. One only has to watch him with his young sister to realize that his heart is as large as his bank account. But it is important to realize there may be problems ahead for Speith.
Great golfers like Jack Nicklaus and Phil Mickelson have enjoyed strong support from their wives and children and Spieth is not yet married. His equally handsome and sponsor worthy competitor Jason Day has settled down and may have another major-winning year. But Spieth's temperament is to be preferred. He is calm and serene while Day is more emotional. There was a haunting similarity from past PGA Champions; that of a calm demeanor versus an emotional one in the golfing contests between the calm Jack Nicklaus and the very emotional Arnold Palmer. Palmer wore his emotions on his short sleeves and was easy to identify with. He'd hit a shot and then turn and twist his head following the ball with more body english in one shot than Nicklaus showed in a year. But for betting Jack was always the man to beat.
In the case of betting on golf, Spieth and McIlroy have that calm demeanor which will serve them well in their sports careers. But Jordan Day is more fun to watch. Day has a resemblance to the emotions of Tiger Woods, and the golf fans admire Day's golf game and his emotional enthusiasm while playing. It was the same years earlier when fans flocked to follow an emotional Arnie and became a part of his army battling the calm, emotionless but brilliant Nicklaus.
Sports betters must study this phenomenon and bet accordingly. Certain golfers as well as race horses have temperaments unsuited to winning. Emotions and personalities tend to dictate who will win and who won't. But it's sure fun to go against the odds and be right with money on the line. Remember that the Carolina Panthers were the prohibitive favorite in the Super Bowl, and whenever betting on the underdog, the winnings are much higher.