Lleyton Hewitt Retires From Professional Tennis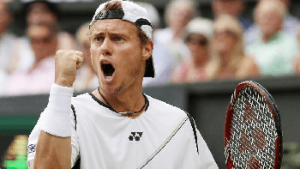 In the second round of the Australian Owen, tennis player Lleyton Hewitt went up against David Ferrer. This would be the last singles match of his career, as Hewitt's loss to Ferrer was followed by the announcement of his retirement. The 34-year-old has been playing professionally for 20 years, and has enjoyed a great amount of success in that time.
Hewitt was an inspiration for many of the contemporary heavy hitters in the sport, such as Roger Federer, Andy Murray, and Rafael Nadal, all of whose paid tribute to their idol. Given recent allegations of tennis betting in the news, the departure of a player always above suspect is a great blow to the game.
Lleyton Hewitt consistently made history in tennis. He was the youngest ever to qualify for the Australian Open in 1997, just one-month shy of his sixteenth birthday. In 1998 he won his first title, besting such famous players as Andre Agassi. He broke the record set by Ellsworth Vines in 1932 for being the youngest ever to be ranked number 1. Vines was 21 when he achieved the honor. Hewitt was 20 years old.
In the same year he was first ranked number 1, Hewitt won his first Grand Slam Title by beating legend Pete Sampras in the final round. His ability to go against and soundly defeat such well-known and respected players was a defining trait of his career. He would fight tooth and nail every moment during the match, and his resilience awed his competitors.
Only one year after winning the Grand Slam title, Hewitt walked away with the championship title at Wimbledon. His skill earned him a spot on the Australian Team in the Davis Cup tournament. Two of these teams, in 1999 against France and in 2003 against Spain, were the winners of the entire competition. He broke the record for winning singles matches for the Australian team in the years (1999-2005) that he competed.
Recently players have been under fire for allegations of betting on their own tennis matches, throwing the games, and the like. These scandals have rocked the tennis world and cast a pall over the game. Older players- such as Sampras and Hewitt- never had the black mark on their career of being accused or even suspected of tampering with matches. It is a testimony to their innate talent, dedication and integrity that they achieved such notoriety and respect on their own merit.
Athletes engaging in sports betting is a truly deplorable act. It lessens individual achievements and makes every match, every win, every title suspect. It is hard to believe that the younger generation of players, lauded as having more skill, more speed, and more dexterity than ever before, would sacrifice all their potential for the sake of money. It is a disservice to players such as Lleyton Hewitt who worked hard to hone their craft and bring honor to their countries. One can only hope this trend will soon die out.