Holly Holm vs. Miesha Tate Preview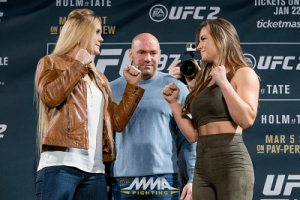 Holly Holm shocked the world a few months back by utterly destroying the UFC Women's Bantamweight champion Ronda Rousey. At the time, Rousey was seen as unstoppable. UFC betting odds had Holm as a 22 to 1 underdog. A lot of people made a lot of money thanks to Holly Holm.
The time has come for Holly's first title defense and she is taking on perennial challenger Miesha Tate. Tate is the only fighter aside from Holm to provide a serious challenge for Rousey, lasting until the third round with Ronda in a fight a few years back. This fight is going to go a long way in determining whether Holm will be the new dominant champion or if her victory over Ronda was simply the result of training specifically for Ronda for years with some of the best MMA coaches on the planet.
Holm's UFC fights prior to facing Ronda were absolutely nothing stellar. The thinking when she first came in was that she was going to KO opponents with ease, due to her extensive boxing background. But that didn't happen. She won those fights, but she went the distance each time. Worse, they were boring and Holly looked extremely nervous.
Miesha on the other hand is extremely comfortable in the cage. It seems like every single one of her fights are an epic struggle. She has snatched victory from the jaws of defeat many times. Tate is known for her expertise on the mat. She has good hands as well but in no way is she comparable to Holm.
The thinking is that Miesha's best bet is to get Holly to the ground. Holly has long limbs and is able to use her reach to keep opponents at a distance. In the fight against Rousey, Holm had clearly trained to avoid being taken down.
Tate is a very tenacious fighter. If she can close the gap and get Holm to the ground, the fight will be very interesting. The problem is that Tate has been accused of having terrible game plans in all of her big fights. Holm may have a huge advantage in the coaching department.
One big question going in to this lies in the intangibles. Both women have experience. Both train diligently. But Tate has proven to have a lot of heart, more so than any other woman on the roster. She can take an unbelievable amount of punishment. She never mentally breaks and she can hang in there when things look grim.
Holm hasn't been tested like that in the cage. There were reports that in her first two fights she was literally shaking like a leaf as she entered the cage. Nerves could play a big factor in this one.
For those betting on the UFC, Tate cannot be counted out. Rousey's fall has left everything up in the air. Holly Holm has knockout power, which is a true rarity in the Women's Bantamweight division. But Tate has taken huge shots before and kept coming.
This one comes down to two questions. Who has more heart? Who has the better game plan?