F1 Grand Prix Schedule for 2015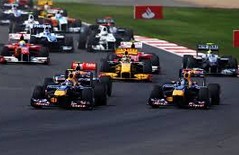 The formula 1 of 2015 seems to be heading in the way of setting a record of a 21 race season this year, especially after the fact that the Korean GP was provisionally reinstated unexpectedly on the schedule for 2015. This change, among other changes took place in Doha before this season began during the meeting on Doha in order to rubber stamp some of the new changes. The 20th race that was ratified was Mexico, but it seems that we have a 21st race now which is South Korea. So it seems that south Korea is back in the field after its absence last year after staging their races from 2010 up till 2013, but the country was given a provisional berth for last year's season, but it seems that they have been reinstated for this year's F1 Racing Schedule. The reason behind the removal of Korea was due to financial problems at the Yeongam, and due to the severity of such problems, no one expected Korea to make a return anytime soon, certainly not in 2015.
At first sight, the 1 week gap that is between the event in Asia, and the next race in the Circuit de Catalunya in Barcelona might look like a logistical concern for the teams taking place, and if the Korean GP takes place, it will certainly force Nico Hulkenberg to compete in the spa round of the World Endurance Championship that takes place in the same exact weekend.
The surprise entrance of Korea resulted in a shift of some of the dates, that affected all race dates across the opening flyaway rounds for the 2015 F1 season, on the other hand, the season opener of the F1 2015 in Australia will remain the same, March of 2015. The Malaysian GP was going to take place right after China, but the Sepang event will ruin that date, so China and Bahrain will switch their places on the F1 calendar, with Shanghai having its event on the 12th of April. This means that Abu Dhabi will have the honor of having the season finale once again like last year. The FIA has also made it clear that the final race of this year is not going to feature system of the contentious double points which did not gain the approval of many last year. The F1 season once had 19 races, and the 2012 season holds the record for the most races as it had 20 grand prix, but it seems that this year is going to break the record with 21 races.
If you are a car racing fan, then you would not want to miss the F1 – Canadian Grand Prix, Montreal which will take place on the 7th of June.