Conor McGregor vs. Nate Diaz Preview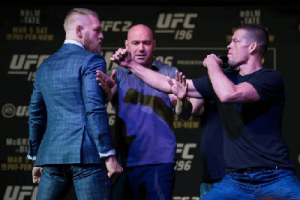 Instead, the headline match for UFC 196 in Las Vegas will be a non-title bout between Featherweight Champion and Irish hero Conor McGregor and Welterweight Nate Diaz.
The two nearly came to blows in a testy weigh-in and the bad boy Diaz resumed his baiting of McGregor who isn't one to back down himself. However, this main event match won't be nearly as challenging to those betting on the UFC.
The bout came about because UFC Lightweight Champion Rafael dos Anjos broke his foot during training and is unable to compete. Diaz, younger brother to former UFC Champion Nick Diaz, stepped in on 11 days' notice to take on McGregor, arguably the sport's hottest star.
On paper this looks like a mismatch in favor of McGregor (19-2) against Diaz (18-10). Taking a fight on short notice is never easy. Now, Diaz has to get in shape to face the unique fighting style of McGregor. While Diaz is great in some aspects of MMA, he also has some noticeable flaws. Dos Anjos (25-7) would have made for a more competitive battle in a Champion vs. Champion scenario.
But, now this is a grudge match between two combatants who are never shy when it comes to trash talk. This has been brewing since Diaz called out McGregor in a post-match interview following his victory over Michael Johnson.
Because of that, UFC betting is likely to favorite the fighter with the belt even in this non-title fight. Right now, McGregor is a huge -420 favorite and Diaz is a +375 underdog.
Diaz has good jiu-jitsu skills and is strong in the clinch. But, he can't cut people off well and can get overwhelmed by an MMA fighter with good wrestling ability. He has good size and will be afforded a full weight class because of the short notice. He will be the biggest foe McGregor has yet to face. However, he doesn't have great punching ability despite his size. It is more about volume with him. That actually sets up McGregor well in a counter-punching role in a fight where both are known to be aggressive with the action.
The Irishman certainly cuts a charismatic figure as a showman away from the octagon. But he has backed up his swagger, especially when he knocked out Jose Aldo in 13 seconds to win the featherweight title last December.
Diaz's best shot may be to get McGregor into a cinch, take him to the ground, then go for a submission. Many believe that is the best way to stop McGregor anyway. However, the champion figures to do better in stand up due to his superior striking and quickness. Diaz's style also makes him susceptible to a knockout despite his size advantage.
Given those factors, all signs point toward McGregor getting another victory on UFC's big stage and an easy night for those betting on the UFC.