Can Tebow Snag The Third QB Spot On Philly's Roster?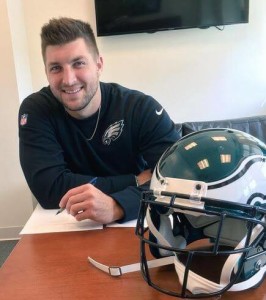 All eyes have been on Tim Tebow since the beginning of the Philadelphia Eagle's NFL Training camp; the reviews have been mixed. There's no doubt that Tebow has mad skills. The problem is there's a lot of not-so-good to consider. He's an inconsistent passer (A knock that's been on him since he was drafted out of Florida in 2010) and a bit uncontrolled — but he does show some flashes of greatness with his scrambling abilities and intangibles. His poor throwing mechanics, however, is his biggest knock and the reason many coaches tend to avoid him like the plague. For those that bet on the NFL, this is going to be a must-follow story throughout the year.
The former Heisman Trophy winner's last three NFL stops didn't exactly work out as planned. He didn't do bad in Denver. In fact, after the miserable play and benching of Kyle Orton, Tebow stepped in and helped Denver beat the heavily-favored Steelers in the 2011 AFC wild card game. His next two stops at the Jets and Denver were less than memorable.
Most critics believe this is Tebow's best and last chance of making it on an NFL roster. He's already been out of football for two seasons, so the chances of another team picking him up if he's cut by Philly are remote. According to the Eagle's latest depth chart, Tebow is number 4 behind Matt Barkley. Chip Kelly plans to keep three QBs on the roster. Tebow shouldn't be counted out yet because Barkley isn't exactly setting the world on fire either. He's had more interceptions in training camp than any other quarterback — even Tebow.
Whether or not Tebow makes the 53-man squad depends upon a lot. But these are obstacles Tebow just might be able to overcome. The biggest question is how he can fit into Kelly's rather conservative offense. Tebow's intangibles are such that Kelly will likely find a way.