Best Moments of the ESPY's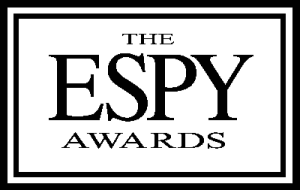 The ESPY's is the biggest awards events in all of sports. Nominees are granted awards and recognition from different fields within the world of sports. This event is not only put on to honor famous sports athletes; it is also used to promote Hollywood personalities and entertainers who usually play a role with hosting and working the event. If you are a person who like to bet on sports, this evening is an awesome celebration of the athletes and teams you love to root for, or against.
Whenever the ESPY's are presented the show is typically loaded with memorable moments that make it unforgettable. Here is a list of some of the best moments from the 2015 ESPY's award show.
Ronda Rousey Takes a Hard Jab at Mayweather
Ronda Rousey is the world's best MMA fighter and she is also considered the toughest female on the planet. Judging by her "feminine girly" looks you probably would not think of her as hardcore but this woman is a first class but kicker. After she received her award for fighter of the year in 2015, she stated "I wonder how Floyd feels being beat by a woman for once?" She made this reference in regard to his Mayweather's former domestic abuse charges. These two fighters have been trading jabs (insults) back and forth at each other since 2014. Rousey's comments is just one more blow in this ongoing "boxing match" between the two.
Actor Ken Jeong is a Spokesperson for A-Rods Apology
Famous baseball player A-Rod was suspended the whole 2014 baseball season for his past use of performance enhancing drugs. Apparently A-Rod and the writers at the ESPYs decided to make light of this situation by having actor Ken Jeong to read a long two page apology from A-Rod. The only catch is that the speech was not about A-Rod's former drug usage; it was an apology for a lot of stuff that A-Rod has nothing to do with. A-Rod was supposedly sorry about the failing Greek economy and about the fact that gluten can be found in some foods. Everyone, including A-Rod knew that the apology was all in good humor. They all got a good laugh.
Leah's "Still" Continuing to Inspire
Leah Still is a young 5-year-old little girl who is full of life, joy and hope but she has been diagnosed with cancer. She is the daughter of a Cincinnati Bengal's defensive lineman named Devon Still. Young Leah was diagnosed with cancer in 2014 and still fighting the disease to this day. The young girl was honored with the Jimmy V. Perseverance Award during the ESPYs. She could not attend the ceremony but her dad accepted the award on her behalf. She was also presented on a video during he ceremony that made the spectators stand up and cheer.
Bruce "Caitlyn" Jenner's Arthur Ash Reception
Olympic champion Bruce Jenner was given an award for his bold stance as a transgender person. This moment is considered a great one because Caitlyn finally was able to express to the world his desire to be someone that he had kept hidden for decades. Jenner had to endure lots of criticism and abuse to get to where she is today. Caitlyn has now become an inspiration for people who want to follow in her footsteps.