2015 Heisman Trophy Projections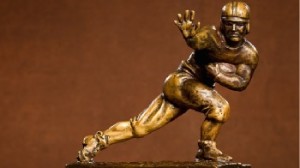 The 2014 NCAA Football season is behind us, and it was one of the most exciting to date, including the first college football playoff. While not everyone will agree with the current playoff system, most of us can agree that it's at least nice to see some kind of playoff, and not arbitrary factors determining who gets to play in the championship game. It made for a much more enjoyable college football betting season.
It won't be long before college stadiums will once again be full on Saturday afternoons. As we look towards the 2015 season and our NCAA bets, it's never too early to start speculating on the teams and players who will stand out, particularly those we anticipate to be in the running for the Heisman Trophy.
After a tough loss for the national championship, 2014 Heisman Trophy winner Marcus Mariota will be in the NFL in 2015. As will 2013 Heisman winner Jameis Winston. This leaves the field pretty wide open for a player to step up and win the trophy. While starting to plan out your college football betting for 2015, here are some preseason favorites to take home the Heisman hardware.
Ezekiel Elliot, Ohio State RB (6-1 odds to win Heisman)
Quarterbacks have won the Heisman the last five years. In fact 13 of the last 14 Heisman winners have been QBs with only Mark Ingram breaking the streak. This year could be different with Ezekiel Elliot joining a number of RBs in the mix. Elliot had a big season, helping his team with the national championship. He's always a threat for a big run and with the other weapons Ohio State possesses it makes it tough to focus on him.
Trevone Boykin, TCU QB (7-1 odds to win Heisman)
Trevone Boykin finished fourth in the voting for the 2014 Heisman, making him an early lock as a finalist this season. TCU had a potent offense that showcased the QB and despite not being a high-profile program in the past, he still caught the eye of the national media.
Dak Prescott, Mississippi State QB (7-1 odds to win Heisman)
Dak Prescott was in the running for the 2014 Heisman most of the season, but a disappointing finish left them out of the playoff mix and most likely hurt his chances to win the trophy. The bulldogs had a great season which elevated Prescott into the spotlight last year. They will need to have a similar season for him to be guaranteed a spot in New York as a finalist in 2015.
Nick Chubb, Georgia RB (12-1 odds to win Heisman)
Nick Chubb is another running back who has a chance to hoist the hardware in 2015. He is certainly among the best RBs in the SEC, having averaged more than 6.8 yards per carry in 2014! But Georgia needs to have a better season than 2014 for him to have a good shot at winning the Heisman.
These odds will change, and some of these odds will only go up, so be sure these and other NCAA bets in early!