The Annual ESR Report Reveals Numbers Behind eSports, Virtual Reality and More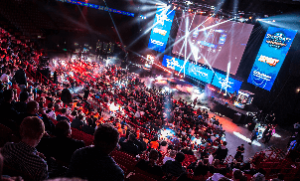 The Entertainment Software Association has released its annual list of noteworthy statistics concerning the computer and video game industry. Among such marquee findings as the presence of a regular video game player in 63% of U.S households (regular being defined as playing games for three hours or more a week) and that the average age of a U.S. gamer is 35, this year's report managed to shed some light on the current popularity of some of gaming's emerging trends.
Concerning the growing popularity of social and multiplayer oriented games, the ESR has found that 48% of frequent gamers play social games. 54% of gamers say that they play some kind of multiplayer title, with 40% of that group stating that they most often play with friends. However, it is worth noting that the average time spent playing those games online per week is 6.5 hours, compared to just 4.6 hours per week playing their friends in person. In total, 51% of gamers participate in a multiplayer mode on a weekly basis.
The rise of competitive gaming eSports was a particularly noteworthy topic on this years' survey, as 50% of polled gamers say that they are familiar with eSports. The most popular way that this group follows eSports is through social media (45%), though video clips follow closely behind (43%).
Virtual reality was another popular topic of discussion this year, as 55% of gamers report they are familiar with virtual reality and 40% say that plan to purchase a VR device within the next year. All told, 58% of participants indicated an interest in playing VR in the next year.
Compared to the surveys of previous years, this edition noted that the number of homes that own a device capable of playing video games has dropped from 80% to 65%. Ownership of consoles dedicated solely to video games also fell from 51% to 48%, with 36% of participants noting that they use their smartphones for gaming.
Additionally, it was noted that males appear to represent 59% of the gaming market. However, the ESR has found that the number of female gamers above the age of 18 outnumbers the number of male gamers below the age of 18 at 31% to 17%.
All told, the video game market generated $23.5 billion in 2015 according to this study, with $16.5 billion going towards software sales of which 56% were purchased through a digital format.