FIFA ESports Grow Immensely In Popularity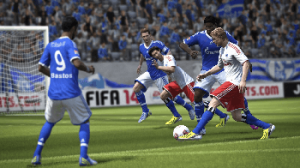 EA Sports is a game developer fans should keep a consistent eye on. A wing of the Electronic Arts company, EA Sports never ceases to deliver interesting and innovative sports games to the market. EA Sports does more than just release generic games for download. The company produces some of the most intriguing and cutting edge concepts in sports gaming. Most recently, the company announced a launch of a full esports division. The announcement came in December of 2015, and sports fans were thrilled over the news.
Is it all that surprising that the top franchise in the EA Sports catalog is the FIFA one? Football/soccer remains far and away the most popular of all team sports on a global basis. A solid presentation of FIFA on the EA Sports line is sure to draw in a massive amount of fan and player interest. The recent FIFA Interactive World Cup (FIWC) game even received widespread acclaim after being televised worldwide on major television channels.
Yes, the interest in sports gaming is huge. Fans cannot get enough of their preferred sports, and this fervor extends to the world of sports gaming.
The other factor driving the popularity of all top gaming leagues is online wagering. Yes, people do love to place wagers on sports in all its forms. A real gaming contest is a real contest. The outcome is not predetermined or scripted. Therefore, placing a wager does make sense for those serious fans of gaming and betting.
The rise in the popularity of the FIWC is expected to continue well into 2017. That means more and more teams and players are sure to be added to the mix. As various esports players form viable teams that garner global attention, the expansion continues at full speed. Yes, the gaming world has come a long way since Pong debuted "blip and dot" versions of sports games in 1976. 40 years of technological developments does change things a lot.
Orville 'KDem' Shannon gave an interesting interview about what it is like to be a successful, professional FIFA gamer. He players for the Empire Arcadia Silverbirds, one of the top teams in the esports realm.
Reading his words in a published interview reveals interesting facts about professional game play. For one, players have to stay on top of all changes and innovations in game formats. Failure to do so is going to effect game play and, in turn, the ability to win. A lot more work and discipline to succeed is required than outsiders may believe.
Esports, especially football/soccer-themed games, are likely to continue to attract a major following. New sports celebrities are sure to be made as a result, and this could have an incredible effect on merchandising, gambling, and more.